Temples
Buddhist

Mughal
Forts
British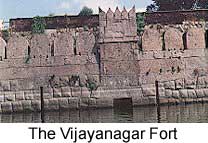 All who visited the immense fortified metropolis of Hindu Vijayanagar in its 15th century heyday were overwhelmed by what they found. Italians, Persians, Portugese and Russians, none of them strangers to greatness or to opulence, believed it to be the richest city in all India, perhaps in all the East, on a par in size and art and architecture with Rome: a religious center as well as a magnet for trade in pearls and coral, elephants and horses, camphor, pepper, sandalwood and musk, dealing through its seaports with sea ports with far-off lands like China, Burma, Malaya, Persia, Africa and Portugal. Today it stands an awe-inspiring ruin.
The site had been occupied since time immemorial- it is identified with Kishkindha, scene of some of the great stories of the Ramayana. Properly defended it was, despite its vastness, held to be impregnable: the largest area, including an inner walled citadel and palace, was enclosed by semi-circular lines of walls and ramparts, 60 miles of them, against the hilly south bank of the river Tungabhadra; the north bank was the fortified region of Anagundi. What cataclysmic defeat could have wrought so much havoc?
In 1336 two brothers, Harihara and Bukka, the sons of Sangama, laid the foundations of the kingdom. They had a few years earlier been taken prisoner to Delhi by the armies of the Tughlaqi Sultan after the defeat of Warangal, had converted to Islam and gained the trust of the administration. Faced in1336 with rebellion by the east-coast Hindus, the Sultan appointed the brothers to retake the region in his name. This they did, until continuing dissension in the sultanate persuaded them instead to declare these domains their own. Their reversion to Hinduism was reinforced by a declaration from the religious leader that Harihara, who first took the crown of Hastinavati, or Hampi, was divinely authorized, a god-king of the local deity, Virpurusha.
Bukka succeeded in 1354 and immediately began work on a new capital, Vijayanagar, City of Victory. The rival Hindu kingdom of Hoysala had already fallen to his brother and Bukka increasingly fought with the Bahmani kings; the Sangama dynasty from then on was almost constantly at war with neighbouring kingdoms, Muslims and Hindu, their territory contracting and expanding. In 1447, in the reign of Mallikarjuna, Vijayanagar empire was attacked simultaneously by the Bahamani Ala-ud-din Khilji II and by Kapilesvara, the Hindu king of Orissa.