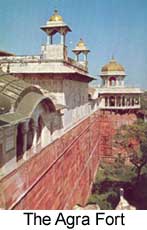 Akbar built forts and palaces. He built the Agra Fort on the banks of the Yamuna in eight years (1565-73). In its plan, it forms an irregular semicircle. The fort is fortified by a 2.4 km long and 21 metres high wall made of red sandstone. The well-shaped stones are linked by iron rings. It has two big ornamental gateways, one each on its southern and western sides. There is a moat filled with water around the fort in order to ward off enemies.
The arched entrance is flanked by two huge bastions (projecting part of a fort) projecting from the wall. The whole gateway is decorated with patterns in white marble inlay-as well as in coloured glaze. Such decorative art has representations of winged dragons, elephants and birds. These representations of living beings in art are alien to Islamic tradition and are not found in any Islamic building in India.
Agra Fort has some important monuments which were added later by Emperor Shah Jahan. The prominent among them are Khas Mahal, Diwan-i-Am and Moti Masjid. These differ from the buildings of Akbar as these were executed in marble as against the red sandstone used in Akbar's time.
These monuments introduced two innovations:
(a) Decorative art representing living beings such as dragons, elephants and birds. Earlier art had decorated pattems, calligraphy etc.
(b) Marble was used by Shah Jahan for building Khas Mahal, Moti Masjid etc.
Earlier buildings of Akbar used red sandstone for such buildings.