Temples
Buddhist

Mughal
Forts
British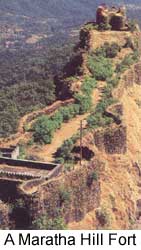 The Marathas - their name returns like a defiant echo to any proclamation of imperial title to India, reverberating round their strongholds in the Western Ghats for nearly 200 years as they warred with the Mughals, never wholly conquering, never wholly vanquished. Not until early in the 19th century did dissension in their own ranks and a third war with the British finally destroy their power.
The Marathas were moulded into a real force, almost into a separate nation, by one man, Shivaji Bhonsla, born at Shivneri in 1627. His father and grandfather had been jaghirs of the Nizam Shahi Sultan of Ahmadnagar and later of the Adil Shah Sultan of Bijapur, with several forts in the Poona district under their command. Shivneri itself, and the Junna fort nearby, were garrisoned by the Mughals in the 1630s in the course of Aurangzeb's policy, as governor of the Deccan for his father the Emperor Shahjahan, to annexe the independent sultanates, of which Bijapur was one.
In this way in 1626 the Mughals had already acquired Purandar which, along with Sinhgad, guarded the route to Poona, itself a jaghir that had been given to Maloji, Shivaji's grandfather, in 1604 by the Ahmednagar Sultan. Standing at 4000 feet above sea level, the Purandar citadel had reputedly been built by Purandara or Lord Indra, king of the gods. It is a double giri durg, hill fort, with a lower fort, Vajragad, to the east. Unlike some of their Rajput counterparts, the Marathas carefully chose positions which could not be overlooked by adjoining hills, even to the extent of levelling the surrounding ridges by blastworks.
Like any other hill fort, Purandar was defended by curtain walls, 26 miles in circuit, with six bastions to guard the three main gates reached by a steep, misty cliff path, often through thick shrubby terrain. Ten years after they had squeezed Purandar from Bijapur and thus from the holding of the Maratha Bhonslas, the Mughals similarly acquired Sinhgad, a fort so extraordinarily situated it might seem it could never be taken by force. A long steep climb reveals the fort backed up to massive, rugged mountains on the north and south, with narrow, precipitous ridges to the east and west. Two winding, rocky paths are each defended by three gates; having forced the ascent, besiegers came face to face with a craggy escarpment topped by stone walls.