Temples
Buddhist

Mughal
Forts
British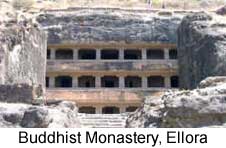 The Ellora caves are situated 48 kilometres from Ajanta near Aurangabad, Maharashtra. These caves are cut off a rocky plateau and they are related to Buddhism, Jainism and Hinduism. At Ellora, there are 12 rock-cut viharas. The Mahawada vihara is most remarkable among them. It has a large hall with 24 pillars and 23 cells on its sides.
There are some viharas with two or three storeys. The most famous chaitya at Ellora is Vishwakarma which is suppoterd by 28 pillars. Its stupa is about 8 metres high. It has the statue of the squatting Buddha with attendants on both sides. Artists worked at the cave site of Ellora, near Ajanta, until about 1000 A.D. They created Buddhist, Hindu, and Jain caves next to each other.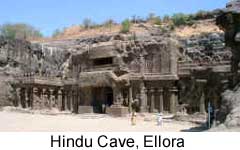 The greatest monument at Ellora, dating from the mid-800's, is a temple to the Hindu god Shiva. It was carved out of the cliff like a great piece of sculpture. The workers started at the top and gradually cut downward. The temple is called the Kailashanatha temple, taking its name from Mount Kailasha, in the Himalaya, where the Hindus believe Shiva lives. The temple is rich in symbolism.
Cut from the cliff, it is literally a carved mountain. Its sculpture includes scenes illustrating Shiva's power. For example, near the base of the temple the many-armed demon Ravana is shown shaking the mountain peak where Shiva and his wife, the goddess Parvati, sit. The artist has captured a look of alarm on Parvati's face, but Shiva shows no fear. He merely stretches out his foot, pressing down the mountain and imprisoning Ravana beneath it. The scene is deeply cut into the rock, the contrasts of light and shade increasing its impact.