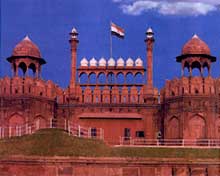 The Red Fort was built by Shah Jahan when he decided to transfer his capital to Delhi. He began its construction in 1639 and completed it in 1648 A.D. He held his first darbar in it on April 1648. The building of the Red Fort was supervised by Shah Jahan himself. It is said that about one crore rupees were spent on those days to build this fort. The Red Fort is built of red sandstone and marble on the bank of the Yamuna.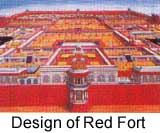 The fort is in the form of a parallelogram measuring 930 metres by 495 metres. It is surrounded by a strongly fortified wall. The walls facing Chandni Chowk are higher than those facing the Yamuna. There are two gateways- Lahori Gate, which is the western gateway, was the main and the ceremonial entrance. Some of the prominent buildings in this fort are Diwan-i-Aam, the Diwan-i-Khas and the Rang Mahal.
These buildings are decorated with pure white marbel and inlaid with precious stones. Nowadays, it is being used to house some of the military offices. The fort has an arrangement for continuous water supply. After the independence of India, the Prime Minister of India unfurls the national flag from the ramparts of the Red fort on the Independence Day. The Red Fort is one of the important historical monuments in Delhi. Its vastness, sense of proportion imposing structure and the magnificence of its execution reflects the grandeur of the Mughal architecture. The following Persian couplet which is inscribed in the Diwan-i-Khas aptly describes its grandeur: "If there is a paradise on the face of the earth, It is this, it is this, it is this."
Jama Masjid, near the Red Fort, was built by Shah Jahan in the 17th century A.D. It is the biggest mosque in India. it is built on a high platform with three onion shaped domes decorated with black stripes. It has four minarets in four corners. Its courtyard has a reservoir of water in the center. This courtyard can accommodate as many as 10,000 people at a time. This mosque is built in red sandstone with inlaid white marble. Its construction began in 1644 A.D. and was completed in 1658 A.D. In the absence of royal patronage, art and architecture did not flourish, after the reign of Shah Jahan.