Temples
Buddhist

Mughal
Forts
British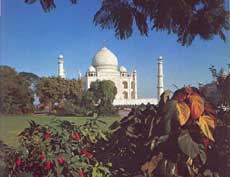 Marked as one of the seven wonders of the world, the Taj Mahal was built by Shah Jahan, in memory of his beloved wife, Mumtaz Mahal, and was the best work ever produced by the Mughal architecture. Ustad Isa was the master architect under whose guidance this monument was designed, executed and completed. It is made of pure white marble and described as a 'dream in marble'. All its parts have a perfection in proportion.
This structure on the bank of the river Jamuna is constructed on a platform 6.5 metres high. Some of its special features which make it a masterpiece in marble are the gateway, the central dome, the elegant minarets, the lovely gardens and the intricate inlay work on marble. The arrangement inside is like that of the Humayun's tomb.
There are round minarets at each corner of the building. The central dome has the appearance of an inverted lotus and it rises to a height of 56.1 metres. In the interior there are octagonal chambers connected to each other by diagonal passages. Both the interior and exterior of the building are carved and decorated with inlay-works, screens and calligraphy. There are two edifices on each side of the main building, which is surrounded by gardens, pools and fountains. The cost of the construction was rupees three crores and it had taken about 22 years to complete the whole project. Because of its exceptional beauty, the Taj Mahal is considered to be one of the wonders of the world.
The special features of the Taj Mahal are:
It is made of pure white marble with its special lustre and fine texture. The marble was obtained from Makrana in Rajasthan.
The main structure is surrounded by gardens, fountains and pools.
The Mausoleum is built on a 6.6 metre high plinth. The lower portion, square in design, Uses to a height of 32 metres.
The interior octagonal chambers are connected to one another by diagonal passages. This pattern is similar to the one followed in Humayun's tomb in Delhi.
The interior and the exterior of the main building are decorated with screens, calligraphy and inlay work.
At each of the four comers of the main structure, there is a minaret.