Temples
Buddhist

Mughal
Forts
British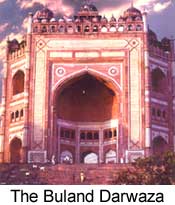 The best architectural achievement of Akbar's reign is seen in his new capital at Fatehpur Sikri situated 43 krns away from Agra. It has a circtimferetxce of over ten kilometres. The construction of this capital began in 1569 A.D. and was completed in 1584 A.D. Fatehpur Sikri had a wall on three sides with mne gateways and also had an artificial lake. The best examples of Akbar's buildings are found in Fatehpur Sikri. It was designed as a grand capital with schools, public buildings, palaces, and mosques interspersed with terraces and gardens.

The architectural style of these buildings has Persian influence. There are many buildings of interest in this capital. The Jodha Bai Palace is complete in its design and its carved decoration resemble those of the Hindu temple architecture. The house of Birbal is profusely sculptured and has beautiful patterns. The Panch Mahal, a pyramidal structure in five storeys, was built on the pattern of a Buddhist Vihara. The Ibadat Khana (hall of worship) where the philosophical and religious discourses were held, was sober in quality and ornate in architectural style. The Jama Masjid is surrounded by pillared cloisters and has three domes. Inlaid marble and plastic relief in colour have been freely used in it. The tomb of Salim Chisti, made of white marble, is of exquisite beauty.

Buland Darwaza


Buland Darwaza or the gate of Magnificence, was built in 1601 A.D. by Akbar to commemorate his conquest of Gujarat. Its gateway is approached by 42 steps. The Buland Darwaza is 40 metres high and 35 metres wide. It is the greatest gateway in the world. The gateway is of red sandstone decorated by carving and inlaying of white marble. On the central face of the Buland Darwaza there is an inscription in beautiful lettering.

The inscription is not only famous for its calligraphy, but also throws light on Akbar's religious broad - mindedness. The inscription is a message from Jesus Christ advising his followers not to consider this world as their permanent home. The inscription reads: Jesus son of Mary, on whom be peace, said, "The world is a bridge. Pass over it, but build no house upon it. Who hopes for an hour, hopes for eternity. The world is an hour. Spend it in prayer, for The rest is unseen."