Temples
Buddhist

Mughal
Forts
British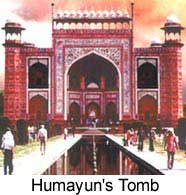 Akbar built Humayun's tomb at Delhi between 1565 and 1580 AD at the instance of his mother. The tomb shows the Persian influence in the building of the dome. The Indian influence is felt in the use of marble and red stone unlike the Persian which used bricks & glazed tiles. The huge gateways and the placement of the tomb in the midst of a large garden, use of the arc, use of four cornered cupolas, are some of the distinct features of Mughal architecture found in this monument.
The central part of the building stands on a 6.5 meter high platform. It has arches on its sides opening into small rooms. There is a group of compartments in the interior of the building. These compartments are octagonal in shape and are diagonally connected to one another. The dome has two shells with some space between them. The outer shell supports the white marble casing the exterior while the inner shell forms the vaulted ceiling of the main hall. The dome itself is onion-shaped. This tomb gave inspiration to the builders of the Taj Mahal later.
Some of the special features of this monument are:
It had a bulbous dome consisting of two shells with some space between them.
The tomb was built in a well-laid parklike enclosure.
The interior of the tomb building has compartments, octagonal in plan and diagonally connected to one another.
The main building stood on a 6.5 metre terrace, the sides of which are arched, and each arch way opening into a room.